Our company was founded in October 1993. From June 2006 is known as P.H.U. ZIBI ZBIGNIEW PANEK.
We have a flexible organization and proven and experienced technical staff, thanks to which we are able to satisfy very diverse requirements of our clients and contractors. Our company employs fully competent and carefully selected employees in such positions as: mechanic, electro-mechanic, metal worker, welder, electrician, Thanks to which we can provide you with professional and reliable service.
Thanks to our experience, years of modernization and improvement, our company can meet the most bold expectations of customers who have the right to demand perfectionism in their actions.
Certyficate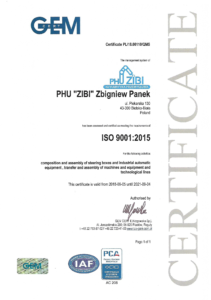 So far we cooperated with such companies as:
AUTOROBOT, FIAT AUTO POLAND, DELFO POLSKA, ADLER POLSKA, GRAMMER POLSKA, EATON AUTOMOTIVE, VALEO AUTOSYSTEMY, VALEO ELECTRIC AND ELECTORNIC SYSTEMS, ANGA, SAVIA S. A., TECHMET, AVIO POLSKA, CABIND POLSKA, GESTIND POLAND, TNTN AUTOMOTIVE LOGISTICS POLAND, TOORANK POLSKA S. A., BSP ELECTRONIC, MAGNETI MATELLI, CHEMOSERVIS – DWORY.
And Italian, German and French companies operating on Polish market, as:
CIMA S. r. l., OLM S. r. l., STEP, ELECTRIIMPIANTI, COMAU, TECNO-ALFA, FASE, HUPPMANN GmbH, OLCI, PIANELLI TRAVERSA, MMI, ELIMO GmbH, pbp PREISINGER, BEUMER GmbH, VALEO FOUR SEASONS, CIEM, SRT, INELMA, VALMET.